Ready to Elevate Your Space with a Stunning Custom Location Wood Map? Fill Out the Form Below!
At G. Loebick Woodworks, we're all about blending art with nature to create unique custom wood map designs that add a touch of personality to your walls.

Here's the exciting part: You can now snag a FREE digital mockup of your dream wood map design (And then purchase your physical wood map for as low as $299). Imagine your favorite places, etched intricately on premium wood, gracing your home or office. It's easier than you think! Get started now and indulge in the magic of wood and geography – your masterpiece awaits.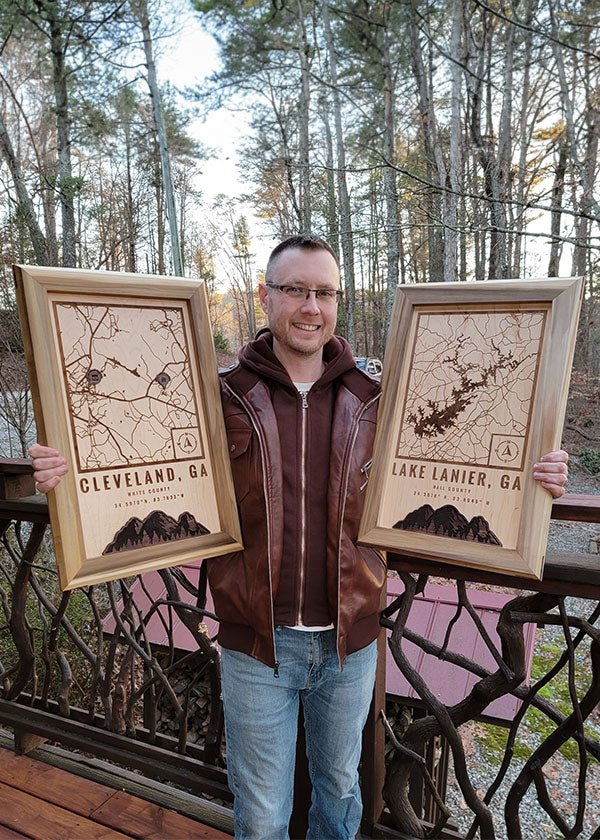 Here's how it works
1) Fill out the simple form below with your details.
2) Verify your information by replying to my email.
3) I will craft a digital mockup tailored to your style and email it to you within 3 days of receiving your verified information.
4) If you decide you love it, you can purchase the physical map. Prices start at $299.
STARTING AT ONLY $299!
Already know you want to purchase a custom location wood map? You can skip this step and order now!
What Our Clients Are Saying
I love my custom map from G. Loebick Woodworks! It was a great experience working with Greg on customizing a map for my home. Every time I look at it it makes me feel special because I know how much care and love was put into making it and is a map about something I love, my home.

STEVE L.

Exquisite Craftsmanship and Heartfelt Artistry! I am beyond thrilled with the breathtaking wooden map of our cherished family property in Lake Placid, NY, expertly created by G. Loebick Woodworks. The attention to detail, the intricate carving, and the sheer artistry that went into this piece are truly remarkable. This map is not just a masterpiece of wood, it's a heartfelt tribute to generations past, a symbol of our family's heritage dating back to the 1800s. It is obvious how much love and dedication went into its creation. Thank you for preserving our history and crafting a treasure that will be cherished for generations to come. It's not just a map; it's a work of art that has found a special place in our hearts and home.

ALISON G.

I Love my beautifully handmade map. The land has been in my family since the 1840's and I now live on it again. It's HOME! Check this guy out. He is an awesome Veteran ❤️🇺🇸💙 and very talented. The quality of his work is amazing with great details.

5 stars Thanks Greg Loebick


TRICIA C.